Rent a vacation home for 10 people
Zeeland is fantastic! There are few places in the Netherlands where you can unwind like this. The beaches of Zeeland, the vast polders, cute villages and beautiful forest and dune areas. Zeeland is perfect for a weekend getaway, midweek relaxation or a whole week of fun! And what could be more fun than going on vacation with a large group? Find the vacation home for 10 in Zeeland suitable for your next family weekend, team outing or friends' weekend!
Experience Zeeland's hospitality
The typical Zeeuw is a tad gruff, but above all has a down-to-earth mentality, is friendly and makes time for a pleasant chat. Zeelanders are known for their helpful nature. Whether it's sharing local tips or telling stories about Zeeland's history, Zeelanders are proud of their surroundings and like to carry this out to tourists as a warm welcome. They value traditions and enjoy delicious regional dishes. Zeeland contrasts with the big cities. Life is less hurried there, making the Zeelander live more relaxed. If you rent a vacation home in Zeeland for 10 people, quickly adopt that Zeeland mentality and enjoy the slow-living feeling with the whole party!
A stay full of nature and culture
Why would you vacation in Zeeland with 10 people? Well, it provides the perfect base for those looking for peace and quiet. Think of the sprawling farms, historic towns and countless hiking and biking trails that make up Zeeland. Beach lovers can also indulge in Zeeland. With 650 kilometers of coastline, you can imagine countless opportunities for activities. Some can relax on the beach with a good book, others can enjoy a cocktail on the terrace, walk along the dunes or do water sports activities. And the children? These have endless fun playing in the sand! Walking on the pile heads, building sandcastles and catching crabs; the kids won't run out of things to do!
Nature in Zeeland
So the Zeeland coast is definitely a must, but Zeeland has even more! Because Zeeland consists of 40% water, it creates the most beautiful natural areas. Here is a list of our favorite natural areas for when you rent a 10 person vacation home in Zeeland:
Would you like to learn more about Piet Mondrian while staying in a vacation home for 10 in Zeeland? The Marie Tak van Poortvliet Museum in Domburg features works by artists with a connection to Zeeland.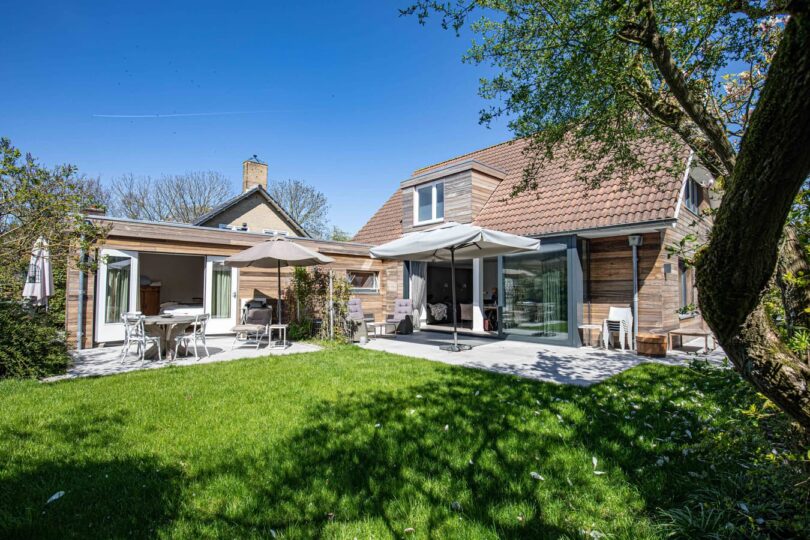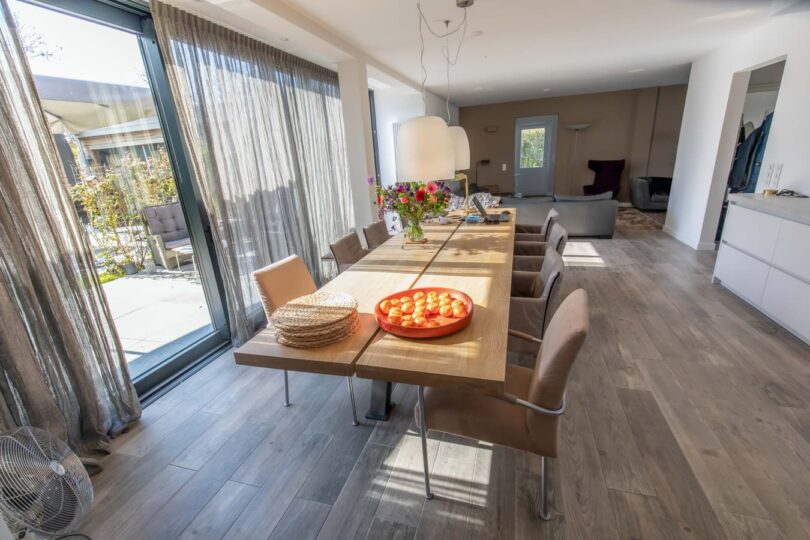 Our accommodations for 10 people
Are you looking for a comfortable vacation home for 10 people in Zeeland? Then we have the perfect stay for you! Our vacation homes in Zeeland for 10 people offer all the luxuries you need for an unforgettable vacation. Whether you want to explore the surroundings, relax in the garden or just spend quality time with your loved ones, our vacation homes in Zeeland for 10 people give the ultimate vacation feeling!
Easy online booking at Hello Zeeland
It is not always obvious to find a vacation home for 10 people in Zeeland. Fortunately, we have several options on the island of Walcheren. How about a luxury vacation home in the heart of Domburg? Or a vacation home for 10 in Westkapelle in the polder? Of course, you can also choose to rent two vacation homes in a vacation park. Feel free to browse our offerings and you will quickly see that there are plenty of options. Get inspired in advance and book easily and securely online through our booking page.
Book your perfect holiday home